The 7 Deadly Estro-Sins: Cans
July 05, 2014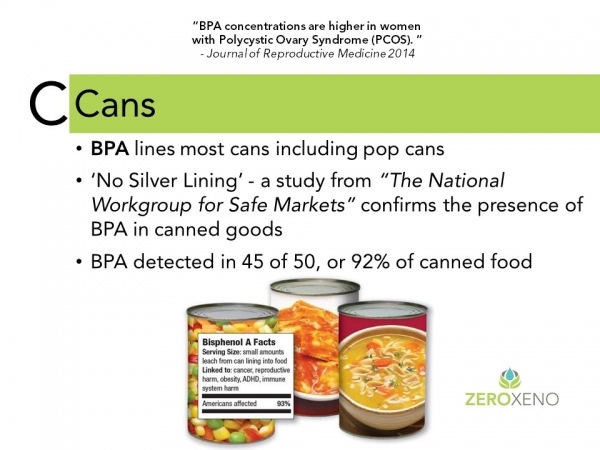 Today we are going to talk about the letter 'C' which stands for 'Cans' in my 'BSFACTS'. Tin cans are a simple and easy way to preserve foods, but is the convenience worth the risk? By now, many people are aware that a xenoestrogen known as Bisphenol-A (BPA for short) is used to line the majority of canned foods.
A report released in May 2010 called 'No Silver Lining' from The National Work Group for Safe Markets, confirms the presence of BPA in canned goods. Researchers tested food from 50 cans for BPA contamination and found it in 46 cans (92 percent of samples).
A High Price To Pay For Convenience
Sex in a Can!
Here's another tidbit about BPA that you may find intriguing. In the 1930's scientists began experimenting with BPA as a drug to be used in estrogen replacement therapy. This was due to BPA's known estrogenic qualities. Fortunately it had too many unwanted side effects in lab animals and the scientific community abandoned this possible use of BPA. Unfortunately, in the 1970's manufacturers discovered BPA's use as a plastic hardener and tin can liner, and the rest is as they say it... HISTORY!
Kick the Can
Got the itch to detox your pantry now? Be on the lookout for the new 'Green Washing' campaign. Just because the label says 'BPA Free' doesn't always mean it's safe. Manufacturers have replaced BPA with BPS, which is just as estrogenic as BPA. BPS is in fact more toxic than BPA because it takes years for your body to detoxify unlike BPA, which is eliminated from your body in only a few weeks.
Alphabet Soup!
Cut Through The 'BS' and Learn The 'FACTS'!
Avoid canned foods and choose products packaged in glass or tetra packs and you will be well on your way to riding BPA/BPS from your life. Thankfully grandma understood a long time ago how to naturally detox BPA/BPS from her body, and now that science has caught up with her, we can validate what she always knew.
To learn additional simple solutions on how to avoid xenoestrogens, read more of my 'BSFACTS' blog series today!