Is Your Banana Chemically Ripened?
Thankfully
studies
are being conducted on how to create more
natural ways to ripen
bananas and other fruits like mangos. Scientists have also discovered soaking mangoes in a 2% sodium carbonate (washing soda) solution can
remove arsenic residues
from the calcium carbide ripened mangoes prior to their consumption.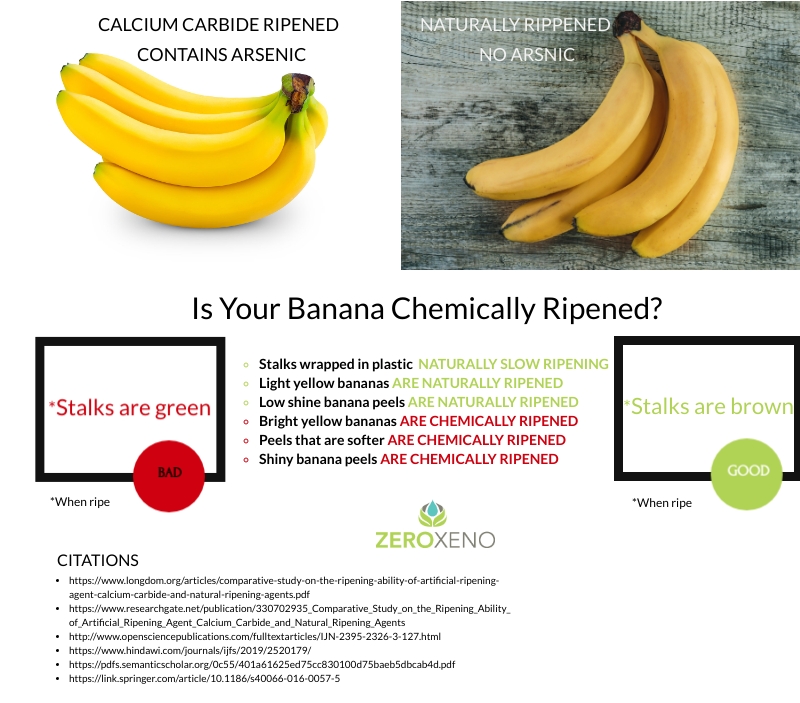 ---
The founder of Zero Xeno, Bonnie Penner and all employees are not medical doctors or trained medical professionals. All advice and information posted on this website is from personal research and/or experience and is intended for general educational purposes. This information is not intended to be a substitute for professional medical advice related to specific medical conditions. We cannot diagnose illnesses nor confirm any claim as to therapeutic safety, effectiveness or course of treatment. Always seek the advice of your physician or other qualified health professionals for any concerns regarding your health. Only your physician can provide specific diagnosis and treatments. Please refer to our full Disclaimer for more details.
---